For brands, social media is both a blessing and a curse, it gives the company a way to directly see what it's audience thinks of its products and interact with them. On the other hand, it also gives an opportunity for people dissatisfied with the product or service to create and promote negative content that harms the brand. What is the right way for a brand to respond to negative post about them?
Respond Quickly, and Professionally
A company should try to respond to negative reviews as soon as possible, because the longer that that post is out there the more people will see it and think that the brand doesn't care enough to respond to complaints. When drafting a response, it is important to not belittle the reviewer or their experience, and discuss what the company will do to help resolve the issue.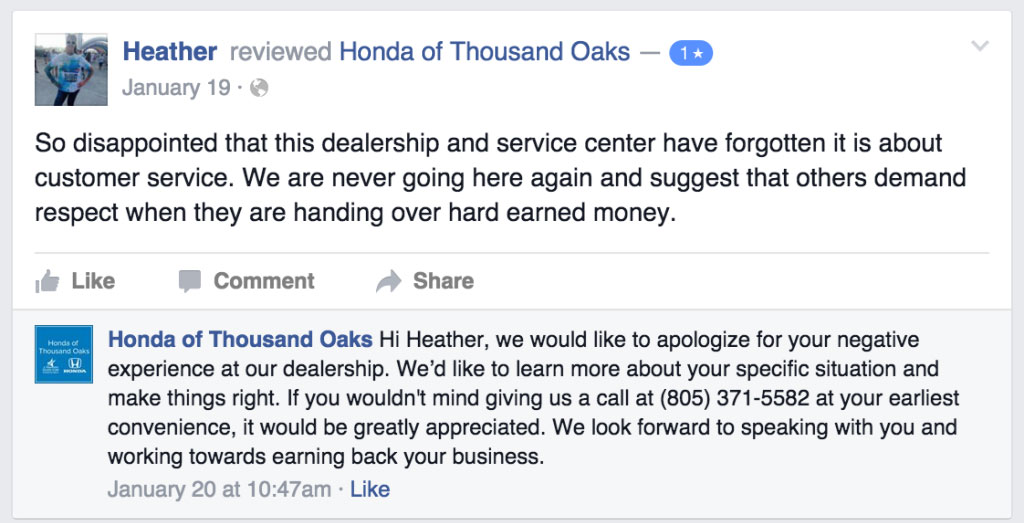 In this example, Honda of Thousand Oaks does a great job of responding to a complaint about their service center. The first thing that Honda did right here was to apologize and make it clear that they were determined to resolve the issue. Another smart move they made was to take the conversation offline, which prevents the negative content from ranking higher on the SERP and less people seeing it.